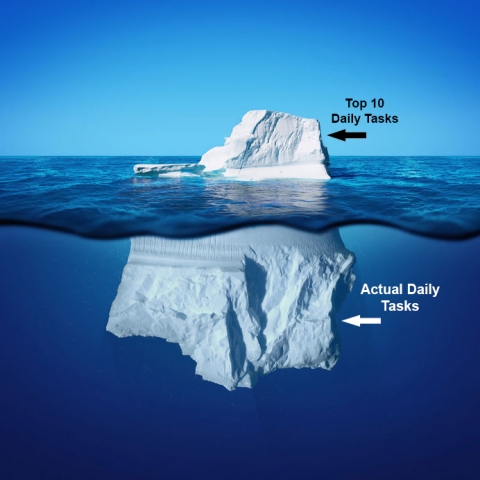 The blog headlines read "10 tasks of a DBA", "What Does a DBA Do? 20 DBA Responsibilities You Should Know About",  but the click creating titles and content offer only "a tip of the iceberg" insight (approx 10% for those wondering).
In brief the complex very time consuming and demanding daily tasks of DBA's and Systems Administrators are endless and constantly shifting.
Proof of this is in just how many counters (120+) SQL Detecta offers to assist in the automation of the daily tasks of a DBA and Systems Administrator.
The manual part of an admin role is constantly check, check, check, look into, meet at, eat on the run, and quite prssured. So the easiest adjustments available are to your time and knowledge about your server environments performance.
The key tasks of the administration role are to manage server performance and preventing disaster, being aware of issues generated from benchmarks and early-warning systems alerts, customisisable to be adjusted as they move or as new changes are introduced.
Trusting automation takes away the stress of manual processes that are taxing administrators and preventing them from assisting with the wider picture of the operation.
This is the whole purpose of SQL Detecta to support the administration process that is protecting data and preventing disasters, making you aware, either visually (custom dashboar) or by alerts (custom alerts) of how things are performing and allowing more confidence through customisation of the automation
Our discovery of using unique methods of capturing data associated with key counters inside SQL Server and using intelligence to auto close alerts if nothing major fluctuates further, adds even more value to "drive" the Server Environment the way you need.
Understandably Ticketing, Auditing and Reporting from SQL Detecta all adds to the saving of time. So there are no more manual tasks of custom script writing to produce results, a nice thing to have without the time costs.
As mentioned at the start, there is so much more and a short blog won't explain it all, it's not until one trials SQL Detecta that you can gain time and add value to the "bottom of the iceberg" and keep your servers and yourself healthy.